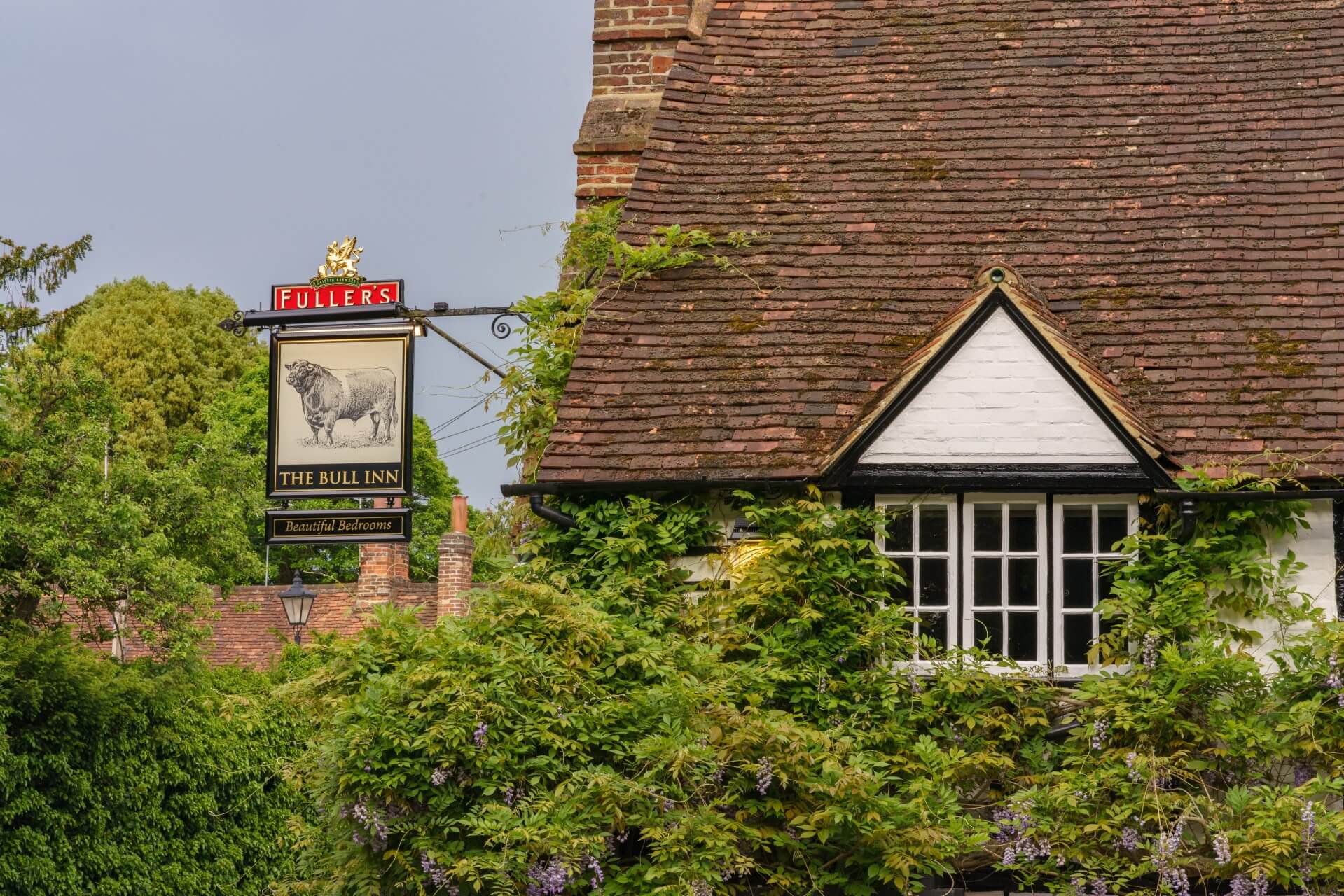 The Bull Inn is a historic 16th-century pub, situated in the stunning village of Sonning, Berkshire. We're located close to Henley-on-Thames, site of the Henley Royal Regatta, and just three miles from Reading. We offer guests a comfortable base, amid beautiful scenery.
Serving customers delicious food and drink and a warm welcome, The Bull Inn also offers seven beautiful rooms with individual decor, which are ideal for a short break or overnight stay. The village is a peaceful haven, whose famous residents, drawn here by the breath-taking scenery, include George and Amal Clooney.
The Bull Inn itself found fame in Jerome K Jerome's classic novel, Three Men In A Boat, in which the author describes us as, 'The veritable picture of an old country inn,' and Sonning as, 'The most fairy-like little nook on the whole river.' Come and see for yourself, and you'll experience the ultimate in friendly countryside hospitality.
Eating and drinking
The Bull Inn's head chef and his expert team cook up delicious homemade pub food daily, serving some of the best food in town. We are famed for our Sunday Roasts, and our motto is, 'Every dish is a signature dish.' We take food very seriously – and it shows in the flavour.
Fuller's Pubs are renowned for their cask-conditioned ales, but our drinks range extends far beyond beer. With a constantly changing menu, you'll always be able to try something new and interesting at The Bull Inn, whether it's a craft lager, seasonal ale, cider, spirit, artisan soft drink, or one of our exclusive wines.
Stay at The Bull Inn
If you're looking for a boutique hotel in Sonning, we have seven Beautiful Bedrooms by Fuller's to choose from. All our rooms welcome assistant- and guide-dogs, and one completely pet-friendly – a brilliant bonus when we're in the ideal spot for long, picturesque walks. Simply check availability when you make your booking.
Whether you're bringing your family on holiday, or are looking for a romantic weekend getaway, The Bull Inn is an ideal choice. Our character-filled Cosy, Comfy and Indulgence rooms all offer ensuite bathrooms, bed and breakfast, super-fast free WiFi and a Best Price Guarantee.
If you love playing golf, you'll also want to take advantage of our special offer to Stay and Play. When you book a bedroom at The Bull Inn, you're entitled to a special rate on 18-hole golf at Sonning Golf Club.